Outdoor Electric Patio Heaters are available in a variety of configurations.
Wall/Ceiling Mounted Heaters
Fixed Stand/Pole Mounted Heaters
Hanging Heaters
Tabletop Heaters
Umbrella Mounted Heaters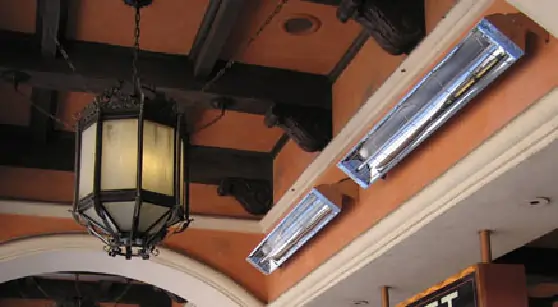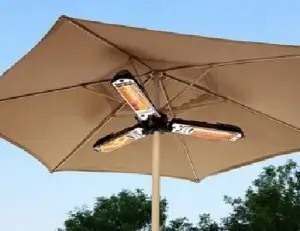 Infrared Electric Heaters work by heating the objects in the path of the invisible radiant heat waves that are produced by the specially designed quartz element. That makes the heaters very efficient because they do not heat the air but instead give warmth to the people and things around it.
People often ask us "How much electricity do these heaters use?" Which is a very good question. Obviously the answer varies from one unit to the next but overall they are extremely efficient. Costing approximately 1/3 of the cost of running propane powered heaters.
Electric Patio Heaters are also much "greener" than propane or natural gas heaters. With Electric Outdoor Heaters, you can entertain outside without producing the negative environmental effects created by most gas-fired heaters or outdoor fireplaces. Traditional gas heaters are often less than 50% efficient and emit carbon monoxide and other hazardous gases. By contrast, our energy-efficient electric heaters convert over 90% of input energy directly into radiant heat. Making them very energy efficient.
If you are interested in adding Electric Patio Heaters to your outdoor living space or restaurant patio, contact us at www.gasoutdoorpatioheaters.com