Ceiling and wall heaters from Gas Outdoor Patio Heaters are a great way to provide additional or primary heat without taking up floor space. They're typically suspended from the ceiling or wall with the aid of a bracket or threaded rod. Thanks to ceiling and wall heaters, spaces such as sheds, garages, workshops, and tool shops can be made comfortable even in the coldest months. For the best ceiling and wall heaters in the market, customers trust Gas Outdoor Patio Heaters.
About Us
For the last two decades, Gas Outdoor Patio Heaters has been excelling in selling and installing high-end heating systems for residential and commercial customers throughout California and beyond. Located in San Clemente, CA, we take great pleasure in providing outstanding customer service, paying close attention to detail, and addressing the specific demands of each client.
Our warehouse features a large selection of heating systems, components, and accessories. So whether it's a patio heater or a high-end ceiling and wall heater installation for your home or business, our knowledgeable specialists are ready to turn your vision into a reality.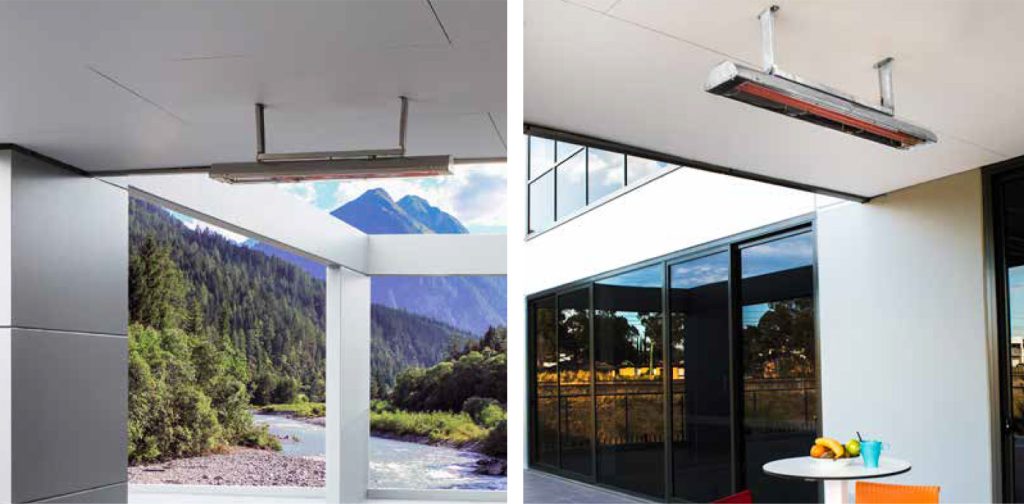 Benefits of Our Ceiling & Wall Heaters
For added flexibility, Gas Outdoor Patio Heater stocks two kinds of ceiling and wall heaters: electric and gas. Let's discuss the benefits:
Highly Effective During Cold Months
The cold months can be highly uncomfortable, particularly for commercial and residential structures that are either unheated, semi-covered, or do not have a standard HVAC system. This category includes sheds, workshops, machine shops, garages, and auto repair shops. A ceiling and wall heater from Gas Outdoor Patio Heater is a tremendous solution.
Our ceiling and wall heaters are extremely efficient whether you prefer electric or gas. With one of our units, you will be able to work in relative comfort even during the coldest months of the year. Not only do they protect us from the brutally cold weather, but they also increase worker productivity, as it's easier to perform labor when you aren't freezing.
Wall heaters are also simple to use and maintain. When compared to other heating technologies, they generate heat rather quickly, which is advantageous. Even during a snowstorm, you can rely on our ceiling and wall heaters to provide enough heat consistently and rapidly.
Safety
Because they are ceiling or wall-mounted, our ceiling and wall heaters are safer, more effective, and easy to use. They also feature a low oxygen shut-off valve that detects when safe combustion is impossible and turns the heater off. This ensures that our units can run well and if necessary automatically shut off if sensors detect such an issue, thus allowing for reduced risk of fire or injury.
Before being available for purchase, all of our ceiling and wall heaters are subjected to a rigorous testing process by our manufacturer's quality control departments. When it comes to carbon monoxide buildup, we are well aware of the hazards it poses, especially in enclosed places and this is why we advocate for you to follow the best safety practices for your region, situation and heater of choice. Always, allowing for proper air flow and ventilation. Our units are equipped with the manufacturer's comprehensive instructions, which include strict recommendations to keep a certified carbon monoxide detector near the unit at all times.
Energy Efficient
Additionally, our ceiling and wall heaters are energy efficient. People still believe that electric ceiling and wall heaters are expensive to run, yet there are a few factors to consider: For starters, when you use a ceiling or wall heater in your garage, shed, or workshop, the heat is concentrated in the surrounding area rather than being distributed throughout unused areas. This is a significant energy saving in and of itself. Second, natural gas is far less expensive than most conventional energy sources. As a result, our gas ceiling and wall heaters are an excellent solution for any individual that wants to enjoy the heat at a reasonable price.
Contact Us for More Information
If you're ready to make your garage, patio or workshop more comfortable and habitable with a ceiling heater or wall heater; even in the middle of winter, contact us today. Have a custom request? No problem. Mike Workman, our certified in-house professional, will walk you through all of your options.