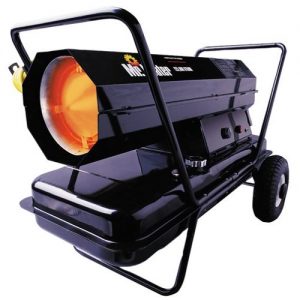 As a leading provider of heaters for commercial and residential uses, one of the most frequently asked questions we receive is how do I know which propane or gas shop heater to buy for my space? Whenever we get this kind of question, we respond with a variety of questions to help you make an educated decision. If you are in the market of a shop heater for your garage or warehouse, consider these questions as a way to help guide you to the right product for your needs.
What is the size of the space?
When it comes to garages and industrial facilities, the size of the space is the first pre-determining factor. A residential garage is going to need a different type of heater than a commercial warehouse based on the size and heating power required. The layout of the space also contributes to the size because cement absorbs heat and cold, so it can take longer to heat these spaces entirely compared to those with insulated walls.
Do you have a heat source preference?
Another thing to consider is the decision between electric, gas or propane gas. All are inexpensive and energy-efficient, but there are some considerations to keep in mind when you decide. Gas does take longer to heat but it can be more consistent. Electric heats almost instantly, but it can get pricey and may require a higher voltage outlet than your space is equipped to power. Propane gas is the most expensive of the three, but it is the most portable of the three options, making propane shop heaters the best for spot heating.
What is your budget?
While the initial sticker price may be your budget baseline, it's important to think of the long-term costs that come with having a heater. This includes the cost to operate and the frequency of heater replacement over time. See these questions to help you determine your long-term budget towards your heating needs.
How many calendar days of the year will you need your heater? If your need is short-term, then a lower-priced garage or shop heater will meet your needs.
Do you have a brand preference or desire a higher-quality heater brand? We carry heaters from many brands including Schwank, Calcana, Detroit Radiant, Reverberay, Patio Sun, and more. Each brand has its benefits, but the heaters that are mounted on walls or overhead are meant for commercial uses. If your budget and space can accommodate this heater type, then we recommend them for long-term uses. If spot heating is what you need, then we recommend our small shop heaters.
How often have you replaced cheaper heaters? If you find yourself replacing inexpensive heaters often, then it's time to stop buying these and get a longer-lasting model. You are just wasting money and need consistent heat for longer uses than the cheapest option on the market can provide you.
Cost may be your main decision factor, but the first benefit of going to Advanced Systems Company is our lowest price guarantee. We will beat the cost of every other heater company out there and even throw in free shipping if your order is greater than $100. To enjoy all these benefits and more, place your propane or gas shop heater order online, or give us a call during Pacific Coast business hours for customer assistance: (760) 779-1352.