Schwank Bistro Two Stage Heater
$2,727.00
WE WILL NOT BE UNDERSOLD – #1 SCHWANK DEALER IN THE US. LEAD-TIME 5-7 BUSINESS DAYS FROM DAY OF PURCHASE
Application(s):
Brand:
Heater Type:
SKU:

N/A
Category: Uncategorized

36,500 BTU and 50K BTU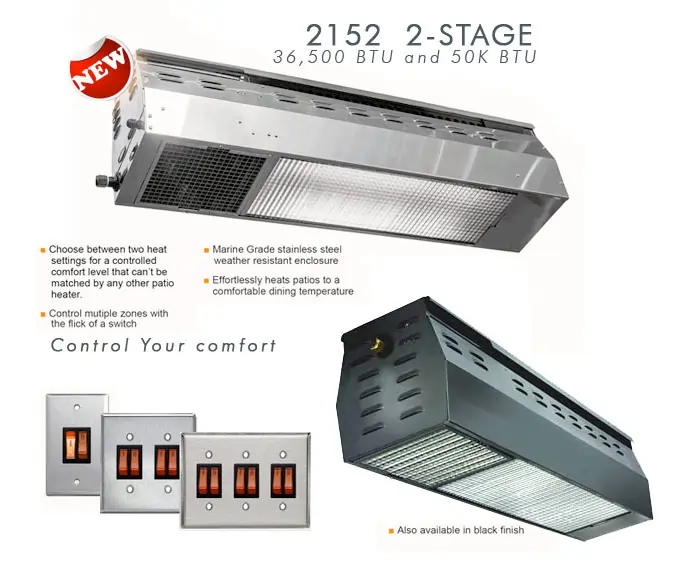 Comfortably heat wide-open patios without clutter with THE 2152 DUAL STAGE Overhead Outdoor Heaters.
Benefits of THE 2152 DUAL STAGE Outdoor Patio Heaters
Non-intrusive Overhead Mounting
Weather resistant housing
Gas lines Built in
No more portable propane tanks
Ceiling chain mount included
Custum ceiling bracket available
Optional hanging brackets available
Black or Stainless Steel enclosure to enhance the aesthetics of your patio
Optional Switching available
Transformer included
Natural gas only
Free shipping
Dual stage Overhead Outdoor Heaters.
*Did you know that Schwank Outdoor Patio Heaters for restaurant patios means better customer comfort, and comfortable customers order more and come back more often?
*The competitive price point and energy savings of our bistroSchwank outdoor heaters make them the go-to option for every smart restaurant owner who wants to keep their paying customers happy.
*If your outdoor restaurant patio isn't already heated then you are leaving money on the table by relying on warm weather to keep your patio open.
*If you haven't upgraded and are still using stand up portable outdoor heaters or worn out, inefficient overhead heaters, your patio costs may also be much more than they should be. Some restaurant owners still prefer stand up portable outdoor Heaters for patios, but now thanks to the affordability and performance of Schwank's popular natural gas fired, Bistro overhead outdoor patio heaters, you can create the perfect patio ambiance for your customers while minimizing operating costs.
*bistroSchwank's affordability and performance will give you more profits immediately.
*The Best Overhead Restaurant Patio Heaters Restaurant owners who have installed our Bistro outdoor patio heaters are finding amazing results from Schwank's infrared radiant heat technology.
*Our bistroSwhank outdoor heater series: Effortlessly heats wide-open patios to a comfortable dining temperature.
*Eliminates the need for employees having to move stand up heaters daily. Keeps patio customers happy so that they stay longer, order more and come back more often. Pays for itself within one year thanks to the increase in revenue from your heated outdoor patio.
*Key Benefits of bistroSchwank Outdoor Patio Heaters.
The following benefits contribute to the efficiency and cost savings of our bistroSchwank infrared radiant heaters:
Overhead non-intrusive mounting frees more space for seating and keeps aisles clear for easy access.
Weather resistant housing ensures longevity of the heater for years to come.
Built in gas lines eliminate portable propane tanks, making the patio more efficient on your gas bill and safer for customers.
Each 2100 patio outdoor heater comes with a hanging bracket; optional wall mounting brackets and arm kits are also available.
Features 2-Stage Controls to choose between two heat settings for a control comfort level that can't be matched by any other patio heater [2-Stage Model Only] Zone Control – Control multiple zones with the flick of a switch.
Black or Stainless Steel enclosure to enhance the aesthetics of your patio.
Available custom brackets as well.
Ask Us About bistroSchwank Overhead Outdoor Patio Heaters Today Schwank is the worldwide market leader and most trusted brand with over 2 million infrared heating appliances sold.
Our outdoor patio heaters are used across North America in popular restaurants including The Keg Restaurant, Rosewater Restaurant, The C Lounge and the Drake Hotel. Get more information about our more profitable bistroSchwank Series of overhead gas, outdoor patio heaters by Schwank.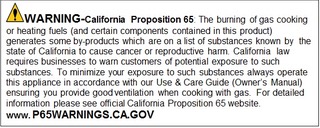 Additional information
| | |
| --- | --- |
| Fuel Type | Natural Gas |
| Finish | Black, Stainless Steel |