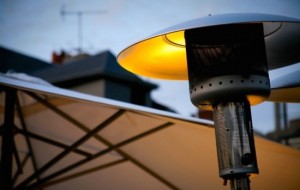 Fall is almost here, and the cold weather is on its way! Whether you want to sit outside in the morning and enjoy your coffee or you want to have a nice, relaxing recap at night. A patio heater makes your outdoor experience exceptional at any time of the year.
With many sizes, looks, and different ranges of heat, patio heaters have become much more functional then they once were. Those of you that love to be outside and entertain, a heater is essential.
What's better? Propane or Electric?
Propane heaters warm quickly but can be larger because they usually hold 20 gallon tanks of propane. If you are in a more enclosed space this heater is not the correct one because of carbon monoxide can build up causing problems.
Now electric heaters don't need fuel. However, they do need new bulbs from time to time. Like buying new bulbs, it's a good idea to double check the running costs before you purchase a heater. For some, electric heaters are a safer alternative because they don't have an open flame. Being smaller though, they might not give off as much heat as a propane heater. Remember, electric heaters need electricity, so you will need an outdoor plug, with propane, you do not.
There are generally three kinds of heaters: stand-alone, tabletop, and mounted. Stand-alone heaters usually heat between 5 and 10 feet and can come in electric and propane. Standups are great for patios, gardens, yards, and outdoor parties. Tabletop heaters are sort of like stand-up heaters but are smaller and sit on top of counters, tables, or other surfaces. Tabletop heaters are available in either electric or propane. The biggest advantage of tabletop heaters is their ability to be portable but lack power. Mounted heaters are either infrared or electric but save on space because they are above you. Mounted heaters are the best heaters for large areas.
Final Thoughts: When you are in the market for a patio heater always make sure to check the heat output and think about the space in which it will heat.
Reach out to our patio heating experts for individualized attention to your patio heater needs. We carry many well-known brands including FireSense, Calcana, Bromic, and Sunpak to name a few. Shop gasoutdoorpatioheaters.com today or give us a toll-free call: 800.549.5077!