Patio heaters are a trendy and cost-efficient investment that lengthens the amount of time you can enjoy your outdoor patio spaces. Today's gas outdoor patio heater options are very stylish and blend in well with most patio spaces. Here are some tips from our heating experts to help you incorporate a heating solution into your patio design: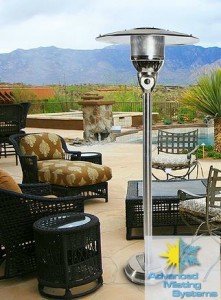 Know the amount of space you need heated
If you know the exact dimensions of the space that will need to be heated, it will help narrow down your selection for patio heaters. At Advanced Systems Company, we offer wall-mounted, stationary and portable heaters that use electricity, propane gas or natural gas to heat the area. All of these options are energy efficient and can quickly heat up spaces. Use of fans can also help maintain the heating comfort for extended time.
Know how much you will actually use the heater
When you choose to purchase an electric patio heater of any type, the cost efficiency is best determined by how many times you plan to use the product. We offer lowest price guarantees on all of our heaters, but your usage will determine whether you get your money's worth.
Ask about color finishes
If you plan to use wall-mounted or portable infrared heaters, be sure to ask about cover options or alternative colors to match the heater to your exterior décor. For example, you can choose between face color options in stainless steel, black and a copper-bronze finish for Calcana and Sunpak heaters. Our stand-up patio heaters also come in classic finishes of brushed aluminum or stainless steel, bronze, aqua powder coated tone, and beautiful intricate metal designs.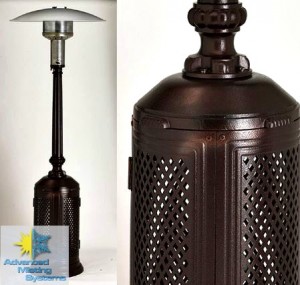 Accessorize accordingly
Table decorations, wall art and pillow cushions with the same metal tone or powder coat color are small details that will help the patio heater blend in while giving the space a cohesive look. The patio heater can be the center point of the space's décor or you can blend the metal tones to show off other focal points in your patio space.
Advanced Systems Company is the leading distributor and manufacturer of residential and commercial patio heaters in California. Shop our online store for well-known brands like Calcana, Sunpak and Bromic heaters.