Electric and gas-fired infrared heaters radiate heat to warm up cold areas and the people in them, and one of the main benefits of these types of heaters is that they reduce the amount of heat load required to keep an area warm by up to 15 percent.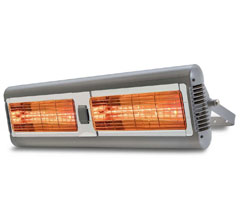 Infrared heaters are typically used to warm up the interiors of large industrial and commercial locations, such as aircraft hangers, mechanic garages, warehouses, factories, sports arenas, vehicle showrooms and agricultural facilities.
In these types of areas, many of which typically feature a loading dock, workers are always coming and going and doors are opened repeatedly over long periods of time, letting in cold air from outside. Infrared heaters are therefore the ideal type of heater for these locations, since their spot heating capabilities (sometimes known as "comfort heating") allow the majority of the heat to be absorbed and stored in the floor, losing only a small amount of heat when doors are left open. There are many types of electric and gas-fired heaters, with the four most popular being:
Low-intensity tube heaters (also referred to as stick heaters, pipe heaters and tube brooders)
High-intensity ceramic heaters (also referred to as box heaters, luminous heaters and plaque heaters)
Construction heaters (also referred to as spot heaters and portable construction heaters)
Patio heaters (these are available in numerous designs, including radiant heaters, suspended heaters, free-standing heaters and decorative heaters)
One of the key elements to consider when you are shopping for new infrared heaters is the size and placement of the model within the area you need to heat. For example, buying and installing one single large unit to warm up a vast space will almost certainly prove ineffective; instead, purchase two or more smaller units that will work better together. Strategically placing each unit in a different area around the location will provide your staff with a more comfortable and balanced level of warmth.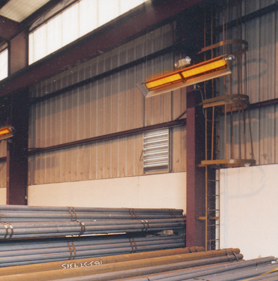 Another important aspect to remember is that each infrared heater must be safely situated away from combustible materials like wood, paper, cardboard, clothing, and so on. A "clearance-to-combustibles" distance ratio is made available by each heater manufacturer, so always check that your heater will not cause any accidents that could have otherwise been avoided. You should ensure that your infrared heaters are positioned an appropriate distance away from the following:
Heat-sensitive workstations and apparatus
Heat-sensing devices like sprinkler systems
Swinging doors, overhead cranes, vehicle lifts, hoists, storage racks and construction equipment
Combustible materials, such as flammable liquids and other burnable items
Nearby gas pipes or conduits
Nearby parked vehicles
When properly installed, maintained and operated, infrared heaters can deliver significant savings over time due to their low fuel consumption, plus they are extremely easy to set up. In addition, the installation of infrared heaters can contribute more than 20 points within three LEED categories, and many gas companies often offer infrared heating equipment rebates too.