Fire pits and outdoor fireplaces are popular products we offer at Advanced Systems Co, especially in the winter when families and businesses use them to keep warm. However, have you considered cooking on them? Cooking on a fire pit is a rewarding and fun experience. After all, some of the best childhood memories many people have are of making s'mores over a campfire. Cooking on these fire pits is possible, and we want to show you how!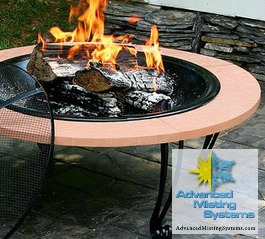 Exercise extra caution when considering cooking over an open flame and practice fire safety awareness at all times. If your wood-fueled open flame gets out of hand, you can quickly extinguish the flames with a bucket of dirt or a thorough dousing of water. If operating gas-switch powered fire pits, you can quickly extinguish extreme flames with heavy amounts of water before turning off the gas switch. Make sure you have plenty of dirt or water nearby before cooking and ensure your fire pit has a safe area cleared around it that is free from low-hanging branches, trip hazards and flammable objects.
To get started, here are some supplies you may need depending on cuisine style:
circular grill grate
dome lid
skewers
aluminum foil
cooking tongs
flame-resistant cookware
oven mitts
bucket of dirt or water  (to extinguish flames)
seasoned, dry wood
To show off your cooking skills, break away from the traditional campfire foods such as hot dogs, marshmallows and corn on the cob. Depending on your skill level, you can do something as simple as homemade pizzas or impress your guests with barbequed meat and baked potatoes.
Homemade wood-fired pizzas: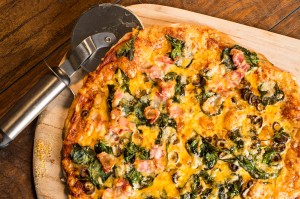 Prepare pizza dough with desired toppings. TIP: Keep your pizza dough on the thin crust side to ensure the crust cooks thoroughly
Make sure the bottom of the dough or the steel/wood pizza peel has a good amount of semolina or corn meal to prevent the dough from sticking to the wood grates
Use dry, seasoned wood to lend natural flavors without heavy smokiness
We recommend using a dome lid to help create a convection effect for heat circulation
When baking your pizza, check on it frequently, especially the bottom. Rotate if necessary to avoid burnt under crust while looking for a golden top crust and melted cheese
Remove from fire. Cut and enjoy!
If you plan to pursue the barbecue route, then we have a couple of tips for you:
One generic wood type does not work for all meats. Refer to this handy list for types of wood that pair well with certain meats
Not every meat can withstand direct heat, so we recommend if you plan to wrap meats in foil, place them in areas with coals and embers rather than direct flame
Poke holes in tough vegetables and wrap in foil to create a steam effect while cooking over coals and embers, away from direct heat
Season your meat and vegetables well. If pursuing a steamed effect, using butter versus margarine can help with steaming because butter has higher water content.
You can also take some time to experiment cooking with flame-resistant pots such as Dutch ovens for soups/stews over the fire pit flames. Keep in mind, final cooking times for any of the methods discussed may vary depending on whether you use a gas-fed fire pit versus natural flame.
Advanced Systems Co specializes in cooling and heating solutions for businesses and homeowners. We have an extensive collection of fire pits, fireplaces, outdoor kitchen elements and heaters for every heating need. We will not be undersold, so if you are interested in any of our products, ask our representatives about our lowest price guarantee and free shipping!