A patio heater is an investment that pays for itself the first season you use it, providing heated comfort when you need it, where it is needed. Guests like to be comfortable, and by providing heat in your outdoor spaces, you can see a great return on investment with longer stays, more enjoyment of patio spaces and memories to last.
With Advanced Systems Company, you get a personalized heater selection with our heating experts. When you call or contact us to place an order, we ask questions to understand the amount of space you would like heated, as well as your preferred heating method. We offer electric, propane gas and natural gas heater options, all of which come in a variety of BTU output. Some are ideal for wall-mounted options, whereas others are portable to deliver heated comfort to desired areas with ease.
Take a look at the follow instructions to install or activate your patio heater:
Portable Propane Heaters
Make sure your propane tank is filled with gas before connecting to the heater; if you need to refuel, there are a number of refilling stations at most U-Haul and Walgreens' locations throughout the U.S.
Open the door that houses the propane tank and use the connectors to allow the propane tank to deliver gas to the heated element
Some propane gas heaters will light automatically with switch or remote; others will require you to use a lighter or match as you turn the gas on.
Propane heaters often only have a high/low BTU output setting, so make modifications accordingly for your space
Natural Gas Heaters
Instead of being connected to a tank, this type of heater is directly connected to natural gas lines by way of a spigot
Use a regulator to monitor usage and amount allotted into the heater
Turn the valve to off-position when not in use
These heaters come in both wall-mounted and stylish stand models
Depending on heater selection, there are High/Low BTU heating or even temperature moderation
Some heaters have tilting heads and are accompanied by fans to help disperse the heat quicker for more efficient heating
Electric Heaters
Space dimensions will help you determine which wattage option is best for you
Some electric heaters plug into a standard outlet for table top or stand-up options
Wall-mounted heater options come with the hardware for installation and are operated by on/off switches with variable temperature settings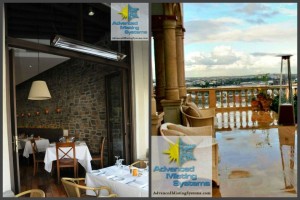 Maintenance Suggestions for All Types of Patio Heaters:
Make sure all heaters are turned off before doing any maintenance
Wipe the surfaces clean with microfiber rags or extendable soft brushes to remove dirt, debris and cobwebs
Do not use water or cleaning solutions because they can damage the coils
Some propane gas heaters flame output areas may need to be cleaned with compressed air or a wire brush
Propane gas heaters often get air in the lines, so it may take time for the gas to catch up for a normal output
Disassemble all portable patio heaters for off-season storage to prolong their lives from dirt/debris erosion
If you are unsure which heater is best for your business or home, get personalized assistance from our heating experts today. We can also answer questions about installation and maintenance to help your investment last.
At Advanced Systems Company, your patio heater purchase will always come with a lowest price guarantee with unmatchable service. Reach our representatives during normal business hours in Pacific Standard Time at 800.549.5077 or use our contact form for any other maintenance/installation or selection help.