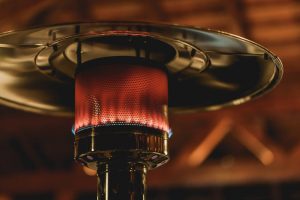 Sunny Southern California is gorgeous all year round, but other states are not as fortunate as we are. If you love the outdoors like we do, it can get a bit chilly on the patio or on the restaurant outdoor seating areas. We have some fabulous patio heaters that can keep you and your customers warm in the evening hours.
We get asked daily by customers about which heater is best for them and how to make a smart decision of a patio heater for their needs. Our standard answer is a series of question that helps us understand their needs and accessible power sources for their heaters.
Do you have an outdoor electrical outlet, or do you plan to use a natural or propane gas line?
The answer to this question matters more than you think. It narrows the selection of what type of patio heater will work in your space. The size of your outdoor area also makes a difference. Our heater selection comes in a variety of high and low-output heat and circulation.
What type of electrical current and output can your patio space handle?
If you are leaning towards purchasing an electric heater, you will need a high-power outlet and unit to get the most efficient results. Many of our outdoor electric heaters are available in 240V capabilities and provide you infrared heating. This format is energy-efficient and can be even adjusted with a remote on select models. An important factor for using an electric patio heater is to have a dedicated electrical circuit for each heater. We recommend the circuit to be able to provide 25 to 30 amps, and if you do not know the output of each circuit, you may need to hire an electrician for help. If all checks out, an electric model is a recommended option for residential patio heating.
For a commercial patio or outdoor space, electric heating can be a bit costly in the long run. We think these applications find better energy-efficient and cost-effective results with gas patio heaters. Today's models of natural and liquid propane gas heaters have an improved design aesthetic than they did a decade ago. You also have the benefit of choosing options that offer two-stage heat temperature options or variable heat ranges.
Do you have any ceiling-mount or heating clearance concerns?
At Advanced Systems Co., you can even find some models that can be within five inches from the ceiling. Calcana and Schwank have incredible design and safety features that allow them to be flush with the ceiling. This provides you the design advantage to hide the modules higher into in your ceiling areas.
The new Sunpak heaters are now available with your choice of black, bronze and stainless steel faceplates along with hand-held remote controls for two-stage heat ranges (high and low output). Detroit Radiant is another notable manufacturer offering a designer series of gas patio heaters. These attractive products are all available at a great, affordable price for your commercial outdoor uses.
We look forward to helping you outfit your space with the outdoor heater that works best for your needs. Advanced Systems Co. is experienced with and provides you the very best in electric and gas outdoor patio heaters. We can also help you with heater placement and installation in your outdoor spaces. Contact us by phone or fill out our handy online form, so we can help you narrow your patio heater selection. Our representatives are excited to talk with you about this season's heating needs!