Halloween is just around the corner, and shortly after that is Thanksgiving, Christmas and New Year's celebrations. All these great family and friend gatherings often overflow to backyard spaces and outdoor living areas. You need an outdoor heater that will keep you warm and comfortable for all types of activities.
If you are unfamiliar with the trends in outdoor heating, let us enlighten you on some of the latest technology available on the market. Electric-powered heaters are economical and provide a steady temperature for smaller areas. Gas-powered heating elements can heat up larger spaces, but it can cost more with continued use. Some also find that this option does not provide as consistent of temperature found with the electric versions. Infratech electric heaters use infrared technology to heat up faster and disperse the warm air for more coverage at a fraction of the cost. It is economical and efficient for sports stadiums, restaurant patios, outdoor bar spaces, shopping areas, and more.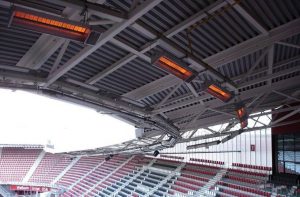 New at gasoutdoorpatioheaters.com is The Schwank Group. This brand name is the largest and oldest gas outdoor patio heating manufacturers on the planet and has manufacturing facilities in the U.S., Canada and Asia. Advanced Systems Company, found at gasoutdoorpatioheaters.com, is now the West Coast stocking distributor for Schwank gas and electric patio heater lines and their new Infratech electric heaters!
We would like to introduce you to two new models from the Schwank group. First are the Bistro Schwank standard and two-stage heat range models. This heater is fairly small and compact with extreme heating capabilities like no other heater of its size on the market. We have actually installed several of these at various restaurants in the Southern California area. As the owner of Advanced Systems Company, I am extremely impressed with the heat output and the fine slim look.
If you want high-intensity infrared heaters, try the Supreme Series from Schwank! These units have a few characteristics that no other patio heater of its size has. What separates these units from others is its reduced heating clearance. These models can be mounted within five inches of combustibles, which means you can now keep your heaters up close to the ceiling. This allows you to enjoy the view and ambience of your outdoor patio area without having to look at big, bulky heaters.
All the Schwank brand patio heaters are built with 316 stainless steel, so you do not have to worry about rust like most gas outdoor heaters out there. The competitive pricing you will find with us makes these heaters a good choice for many commercial applications.
Schwank has branded their own electric heaters made by Infratech outdoor heating. Infratech has been the leader in electric patio heaters for more than 25 years, and we feel it's the most trouble-free heater on the market with several models to choose from. We now have the full line in stock.
Let Advanced Systems Company be here to help you with all your outdoor patio heater needs. We have more than 21 years' experience in the outdoor heating industry and can direct you to the best option from Schwank, Calcana, Infratech and many others.