Gas Outdoor Patio Heaters provides some of the best electric, propane, and natural gas outdoor patio heaters available on the market. It can be difficult to choose between all of the superior options, but we're going to help you by showcasing the top five features to look for in a high-quality outdoor patio heater.

The three most common types of outdoor patio heaters include propane, electrical, and natural gas.

Propane: Propane heats quickly, and it's accessible, making propane heaters popular for outdoor patio use. Freestanding heaters typically run on propane.
Electric: Electric heaters are attractive to homeowners because they are plug-and-play, but they are the least energy efficient. Depending on the size of your electric heater, you could run your heat bill through the roof. Electric heaters are often used for commercial businesses.
Natural gas: Natural gas burns clean, making these heaters common for home installation. It's also the cheapest option out of the three. However, natural gas outdoor patio heaters generally must be hooked up to a gas line.
Now that we've discussed the three preferred types of outdoor patio heaters, we can delve into the features you'll want to consider when purchasing one.
5 Essential Features of Outdoor Patio Heaters
Every outdoor patio heater has unique characteristics which make it a good option for specific situations. Below are the top five features to look for when deciding on the best choice for your needs.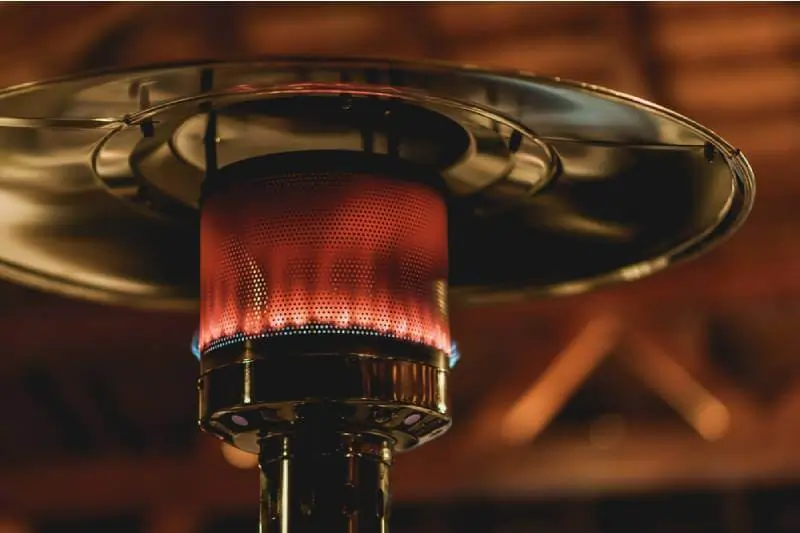 Energy Efficiency
Certain factors come into play when speaking of energy efficiency. For example, electric outdoor patio heaters are the least energy-efficient, although they tout convenience. If cost is a factor and you want to conserve energy, propane and natural gas options are preferred.

Safety Features
If you have children at home, safety features should be the first priority for your outdoor patio heater. Should they tilt or tip over, many standing heaters have a safety auto-shutoff valve. They also generally have weighted bases to help prevent tipping.
Mobility
Some heaters are installed to stay in one spot, as opposed to others that have wheels for easy mobility. Portable heaters are popular for storage and entertainment purposes. Wall-mounted heaters stay installed all year long, and they are generally used for restaurants and commercial purposes.

Heat Output
The amount of heat output you need from an outdoor patio heater depends on the space and its setup. The smaller the area, the lower the heat output needs to be to warm the space. Of course, this is preference, but you don't want to blast out your guests with a heatwave. It's uncomfortable to be cold, but it can be equally uncomfortable in a hot, stuffy area. Hooded patio heaters disperse heat evenly downward, making them outstanding for entertaining.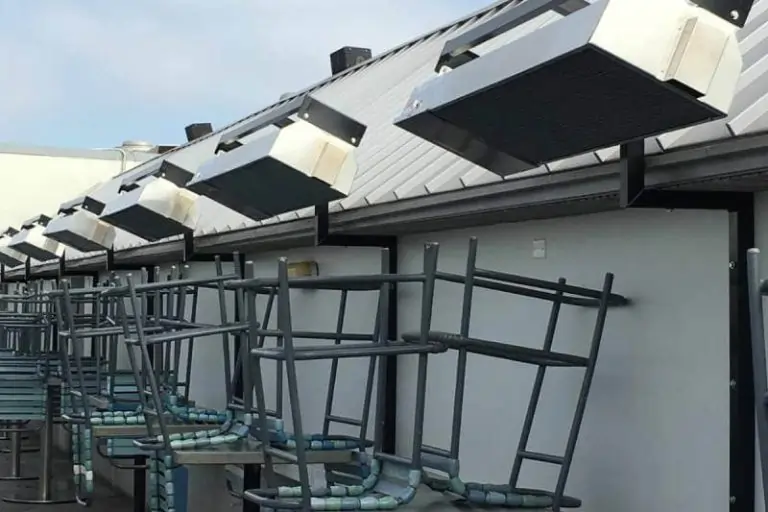 Versatility
Propane outdoor patio heaters are the most versatile of the three main fuel choices because they come in a variety of shapes and sizes. They often have wheels for portability, and some have additional features such as a built-in table for drinks. If you only plan to use your heater for personal use or occasional gatherings, a propane outdoor patio heater is probably the most versatile choice.
Contact Us for Assistance
At Gas Outdoor Patio Heaters, we're passionate about our products and the people who buy them. If you have questions about outdoor patio heaters, we'll be glad to assist you. Please contact us, and we'll happily get back to you.