Infratech Contactor Panels
Starts at: $654.00
Infratech's Contactor Panel with Digital Timer enhances the Value Control Options by adding the functionality of timer capabilities to simple on/off switches and duplex switches. This panel is designed for use with all Infratech heaters, single or dual element.
Compatible with Infratech's Duplex Stack Switch and Simple On/Off Switch
Not compatible with Input Regulator Controls
Enables integration of timers and other 120 VAC controls, including smart devices
Max 6,000 watts at 240V per contactor
Compact design allows for indoor surface or flush mount applications
Must be installed by a Licensed Electrician
For residential or commercial installations
Can be flush mounted (sold separately)
3 Year Warranty
Made in the USA
Benefits of the Contactors Panel are peace of mind in integrating a timer without having to expand your budget on custom dimming panels and controls. As well as the ability to mix and match heaters to be controlled by single switch.
How it Works: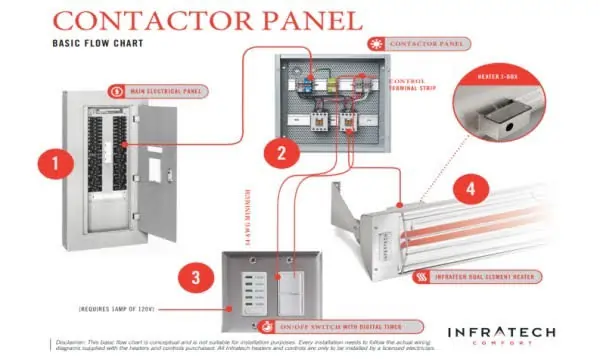 This is a (2) part system that must be ordered a la carte for a complete unit
Panel + Switch = Complete Unit
Contactor panel must be installed indoors in a dry well-ventilated space
Can be surface mount on wall – Comes with a front cover
Can be recessed into a wall – access door can be purchased separately
Contactor panel can be ordered as s ingle contactor, or a dual contactor panel and whichever heaters are connected to each contactor will be controlled together.
Each contactor in the panel can handle up to 6,000 watts max at 240VAC
Wattages do not need to match, but they cannot exceed 6,000 watts.
Example: A 4,000 watt Single element heater and a 2,000 watt single element heater can both be controlled at the same time and operate on a single contactor

What's Included:
Comes with 1 timer per panel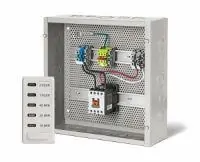 What Will Need To Be Ordered Separately:
Switches are not included. You can order the Infratech on/off or duplex switch we carry or you can use your own their party 120V switch.
Purchase an on/off switch for single contactor panels
Purchase a duplex switch for dual contactor panels
You will need to purchase a faceplate of your choice, the switches above will only include the guts
You will need to purchase a standard two gang box, this will house both the switch and the timer
If you are recessing the panels into the wall, you will need to purchase the access door separately
Additional information
| | |
| --- | --- |
| Choose Model | CP-6000-1X Single Contactor Panel, CP-12000-2X Dual Contactor Panel |