Here at gasoutdoorpatioheaters.com, we work with a large variety of restaurants. Let's talk about the one side of these establishments most people do not get to see: bills. Many restaurant owners are often plagued with large bills without understanding why their costs are so high. Is it because of the local produce, the recent cold snap, fewer patrons or excessive spillage within the kitchen and bar?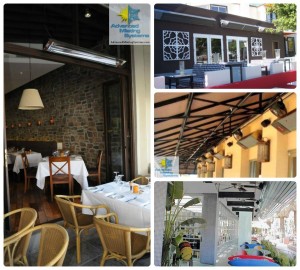 According to an ENERGY STAR document on greenrestaurants.org, other than food preparation, heating and cooling is the largest area of annual energy consumption within many restaurants nationally and globally. While there are ways to cut back on costs in other areas that will not compromise food quality and service standards, when it comes to your electric bill, how can a restaurant survive high usage? After all, many of your kitchen appliances require electricity to keep production consistent and within safety requirements for food preparation.
Let's turn your focus away from the kitchen to your dining area. How are you keeping a large space warm during your winter months? Many restaurants also offer a patio area and may be inadequately heating and cooling these spaces in ways that are energy efficient.
Instead of venting out your main heating and HVAC to your outdoor areas, commercial patio heaters are great source of heat that can distribute heat to either a concentrated area or a large expanse. However, many neglect to use ceiling fans to help disperse the heat.
Energy Efficiency Tip: In the winter months, when using your patio heaters for your outdoor patrons, set your outdoor ceiling fans to a clockwise motion to help the heat spread and reducing your need for constant high heat output.
Not sure which patio heater is best for your space? Many restaurants select the portable heater, while others opt for the wall-mounted versions. You also want to consider your heating source. The three options are natural gas, propane and electric. All of these are eco-friendly for your business, deciding which energy source is going to be best for you depends on a couple of factors. If you are stuck on selecting one, just ask us! Be prepared to answer the questions regarding hook up availability for natural gas or electricity, as well as the projected frequency of use.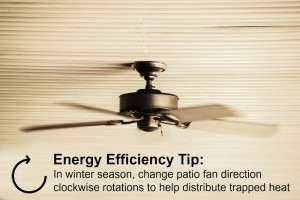 Energy efficiency tip: If choosing a wall-mounted patio heater, choose one that comes with a remote-controlled thermostat that allows you to set a degree of temperature versus high/low heat.
There are heating solutions to help cut down your energy expenses. As for other areas in your restaurant, do more research into your energy output and replace high-energy items within your kitchen with ENERGY STAR products!
Advanced Systems Co is your one-stop shop for commercial patio heaters. Choose us for our lowest price guarantee and our same day free shipping options! We offer many heating solutions through our online store with detailed descriptions of our products. Still have questions? Send an online form, and you'll get a response from one of our representatives!