Designer Series Patio Heater DSC Series
Starts at: $1,381.25
The DSC Series from Detroit Radiant is a go-to heater for several applications. It features single-stage and dual-stage input, and it is available in either a black-coated aluminized or brushed 304 stainless steel housing.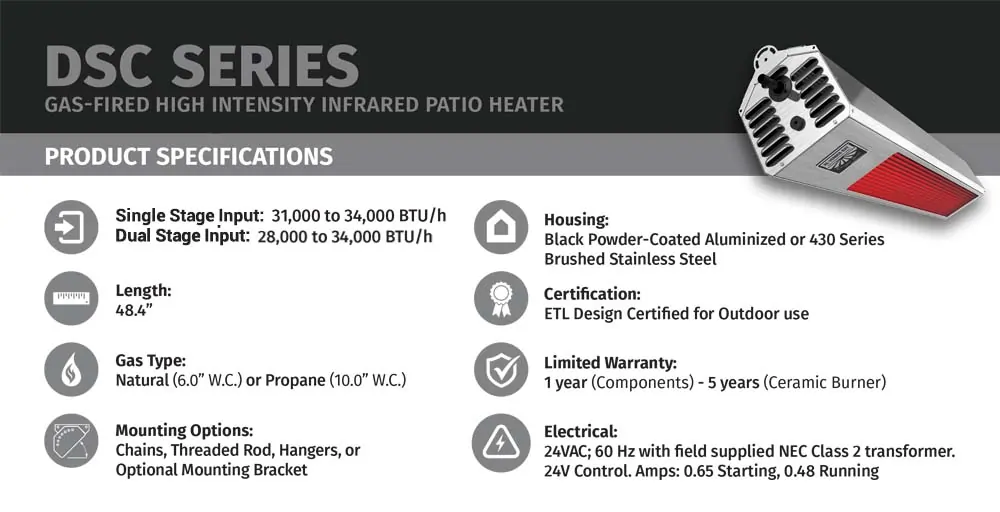 DSC DESIGNER SERIES OUTDOOR PATIO HEATERS
This is our go to patio heater. We install these all over So Cal and sell these all over the USA. Please contact us for more info.
Black-Coated Aluminized (rust free)or Brushed 304 Stainless Steel Housing
Designed to add warmth to outdoor patio applications, the DSC Designer infra-red heater is the perfect solution to stylishly extend the outdoor season to many commercial and residential applications. Easily mounts out of the way and without the hassle of refilling propane tanks. Specifically designed for comfort, reliability and ease of installation is sure to deliver the desired amount of warmth for dining, entertainment or work areas.
Features:
Certified to ANSI Z83.26
Decorative stainless steel windscreen grill
Wind and rain protected design
Single Stage 31,000 and 34,000 BTU inputs
Dual Stage 31,000 and 34,000 BTU High inputs. 28,000 BTU low input mode (DSCD units)
Natural or propane gas
No Fan Design. Very quite
Water Resistant 24V operation
Direct Spark Ignition
Remote controls are avalable
Mounting hardware and transformer not included
Remote/switches not included or available. Simple plug and play can be purchased at any local hardware store or installer can get and install a wall switch.
Gas Connections: 1/2″ NPT
Manifold: 6″ Natural or 10″ Propane
Minimuml: 7″ Natural or 11″ Propane
Maxinum: 14″ Natural or 14″ Propane
Amps: 0.65 starting, 0.48 running
Limited Warranty: 1-year on controls, 5-year on burner
Typical Applications:
Home Patios
Restaurant Patios
Entrance Ways
Outdoor Living Spaces
Valet Waiting Areas
Smoking Areas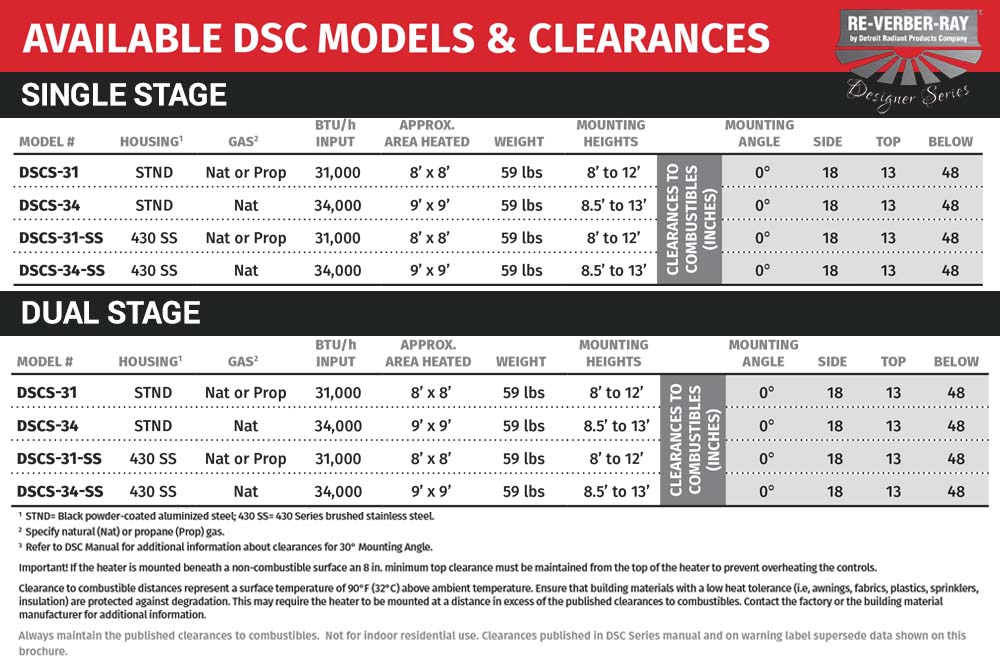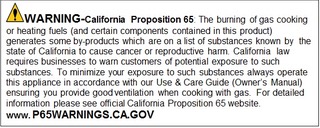 ONE OF OUR FAVORITE PATIO HEATERS NOW HAS A NEW DUAL STAGE MODEL!
Available in:
Single Stage mode with input ranges of 31,000 BTU to 34,000 BTU
Dual Stage mode with input ranges of 28,000 BTU to 34,000 BTU (NEW)
Black powder-Coated Aluminum (non rusting)or 430 Brushed Stainless Steel Finish
24 Volt switching or remote control. (Not included) A simple plug and play can be purchased at any hardware store or installer can get a switch and install. Call with any questions.
MADE IN DETROIT, MICHIGAN Re-VERBER-RAY Heaters
Additional information
| | |
| --- | --- |
| Fuel Type | Natural Gas, Propane |
| Single or Dual Stage? | Single Stage, Dual Stage |
| BTU | 31,000, 34,000 |
| Finish | Black, Stainless Steel |