Aura Shadow Series
Starts at: $648.00
Application(s):
Brand:
Heater Type:
SKU:

N/A
Constructed with premium materials and engineered with NO-LIGHT radiant technology, the Shadow heater represents the next evolution of comfort heating in home or restaurant environments. An all-aluminum construction with integrated heating elements combine to provide a combination of space heating a long with adjustable directional radiant heat.
This unit is suitable for covered, enclosed, and semi-enclosed areas in moderate climates. Also ideal for covered patios or protected outdoor spaces, prep areas, garages, and workshops. Heater features long wave radiant technology which produces convective heat to warm both your guests and the surrounding environment. To best retain heat, use this unit in areas without high exposure to drafts.
Please Note: The Aura Shadow Series 2400W & 3200W are dual voltage units meaning they can be used with either a 240V or a 208V power supply. Please note that when using with a 208V power supply the amperage will change and the wattage will be derated.
Requires 208/240V Electrical
Silent & Produces No Odor or Gas for Ultimate Safety
Low Intensity Radiant Infrared Heater
Matte Black
Can be Mounted Horizontally to the Wall or Ceiling
Mounting brackets Included
Sleek Design with NoLight or Glare
Modern Design
Electric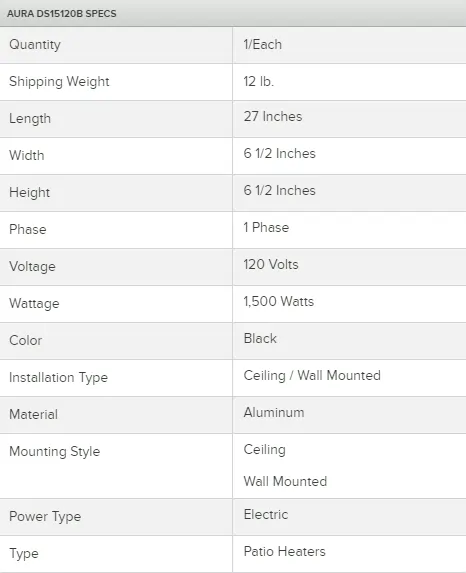 Additional information
| | |
| --- | --- |
| Choose Model | DS15120B Aura Shadow No Light 1500W, 120V Black, DS24240B Aura Shadow No Light 2400W, 240/208V Black, DS32240B Aura Shadow No Light 3200W, 240/208V Black |