Gas Outdoor Patio Heaters is a leading provider of a range of heaters in the United States, including propane patio heaters for outdoor entertaining. Our propane patio heaters are an energy-efficient and safer option for heating large and small outdoor spaces. We offer a variety of propane patio heaters, ranging in type and price. We have portable, freestanding propane heaters for outdoor usage as well as wall and ceiling-mounted propane patio heaters. At Gas Outdoor Patio Heaters, we can help you find a heating solution to help fit your needs, including for outdoor events and entertaining.
How Propane Patio Heaters Work
Portable propane heaters are a must-have for outdoor venues in The United States, especially for those who live in colder climates. These useful devices are used to heat areas to help make them more comfortable. Propane patio heaters specifically work by burning compressed propane fuel and converting it into radiant heat. Propane is stored in a tank that is attached to the heater and needs to be refilled periodically.
Factors to Look for When Choosing a Propane Patio Heater
Propane patio heaters come in a number of options with different features. Therefore, it is essential for potential buyers to understand what features are ideal to look for in a patio heater and how they can help them.
Some crucial factors to consider with propane patio heaters for outdoor entertaining include:
Safety features
Energy efficiency
Overall quality
Convenience of use
Aesthetics
Mobility
Additional features
Not all propane patio heaters are made the same. Although some models may only have minor differences, such as their color, others can have much greater differences, which are necessary to consider when choosing a heater for your outdoor entertaining needs.
Best Propane Patio Heaters for Outdoor Entertaining
At Gas Outdoor Patio Heaters, we supply a variety of propane patio heaters, especially models that can be helpful for outdoor entertaining. Read on to learn more about some of our most popular propane patio heaters. They are organized by type and you will notice they are also sorted by budget from lower end, mid range to high end, premium patio heaters.
Affordable, Freestanding Propane Patio Heaters
This commercial-grade Firesense propane patio heater is an ideal option for budget friendly entertaining. It is made from stainless steel and features an electronic ignition system and wheels to help make moving it around easier. It has a heating range of up to 18 ft.
The Patio Comfort LP Patio Heater is designed for long-term durability and performance. This high-quality heater is easy to move around and comes in three finishes: silver, bronze, and stainless steel. It also features anti-tip safety systems as well as an oxygen depletion sensor (ODS).
Our commercial outdoor patio heater provides several benefits, specifically for commercial businesses that often offer outdoor entertaining, such as restaurants and cafes. This propane patio heater operates on a 20-pound propane tank, uses a cast-iron weight plate, has heavy-duty wheels, a stainless steel build, and an anti-tilt safety switch. This model is also available in its stainless steel finish as well as black and bronze. However, this heater has a sliding tank housing, so there is no door for quick access.
This parasolSchwank patio heater comes in two models. The stainless steel, portable unit with wheels operates on a 20-30 lbs propane tank. This larger tank, coupled with its large reflector and conical shape burner, allows it to heat more efficiently, which uses less fuel and provides heat for longer periods of time between refueling. It also features a safety tip switch.
Affordable, Freestanding Propane Patio Heaters with Adjustable Tables
The following freestanding propane heaters are remarkable for providing radiant heat for outdoor entertaining as well as an extra space for guests to place drinks and small plates of food. This is because each of these models includes a small, round adjustable table. With these propane heaters, it is convenient for guests to gather for warmth outdoors without having to hold onto cold beverages or small plates of food. In addition, these models include wheels, anti-tilt safety devices, and an access door for a 20 lbs propane tank.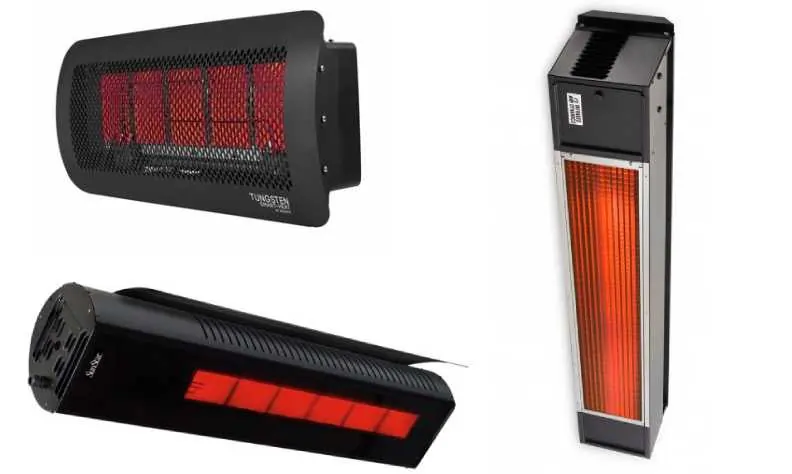 Our affordable, freestanding propane patio heaters with adjustable tables vary primarily by finish and include:
Each of these heaters is an exceptional option for outdoor entertaining and provides increased warmth and convenience for guests.
Higher End Freestanding Propane Patio Heaters
The following freestanding propane patio heaters are on the higher end of the budget, so while they are some of the more expensive of all freestanding propane models that we sell, for the investment they perform beautifully. These heaters offer greater features and benefits, especially for outdoor entertaining. They include:
This Patio Comfort heater is incredibly heavy-duty and stylish, making it ideal for commercial settings, including outdoor entertainment venues. This model is made of cast aluminum and features an antique bronze finish. It uses highly efficient infrared heat to more directly warm people and spaces – as opposed to just heating the air itself. It is also self-contained, portable, and has a safety shut-off control.
This unique yet stylish-looking heater from Bromic Heating is incredibly effective and efficient. The Bromic Tungsten Smart-Heat has a heat output coverage of up to 180 square feet with a heat field that is 12 feet wide and 15 feet deep. It features a high-intensity ceramic burner that reduces heat loss and is unaffected by wind. This Smart-Heat heater also has numerous safety features, including an anti-tilt structure, an anti-tilt safety device, and a flame failure feature. It is available in black.
This freestanding, portable propane patio heater from Sunglo is high-quality and offers great features. It is a fully self-contained portable heater with an easy push-button ignition system. This unit is especially quiet and efficient. It is capable of providing hours of heat – even with its five-gallon propane tank. This corrosion-resistant heater is available in black as well as stainless steel.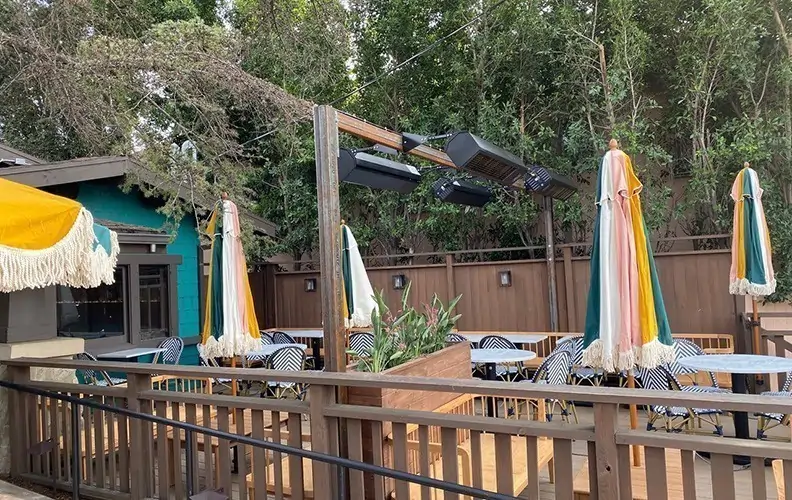 Affordable Wall and Ceiling Mounted Propane Patio Heaters
Wall and ceiling-mounted propane heaters are another exceptional option for outdoor entertaining, especially in consistently used and largely unchanging areas like restaurant patios. Wall and ceiling-mounted propane patio heaters can be installed throughout a space to provide radiant heat. However, unlike freestanding heaters, they are not easily moved around. However, wall and ceiling mounted heaters do not need to be taken down and put back up every day or for every event. They can stay in place throughout their extended lives. Some of our more affordable wall and ceiling mounted propane patio heaters include:
This Tungsten Smart-Heat propane heater from Bromic is an incredibly attractive and efficient unit that can be mounted to a wall or ceiling in a space. It is available in two options: a 3 burner and a 5 burner. The 3 burner model is capable of warming a 160 square foot space, while the 5 burner is capable of warming a 215 square foot space. However, if you would like to upgrade from the 3 burner to 5 burner model, Bromic makes it easy with a universal bracket for both models. In either option, this propane patio heater is slim and stylish with a brushed stainless steel finish.
This radiant patio heater from SunStar is designed specifically for restaurants and other commercial purposes, such as outdoor entertaining. It offers efficient, radiant heat and is easy to install. This model is also outdoor rated, so it is more likely to hold up to outdoor elements like the weather. The SunStar Glass features a glass front to help it blend in with nearly any kind of decor. It can also be ordered with a number of beneficial add-ons, such as a thermostat, hanging hardware, and more.
The SunPak S-25 and S-34 are tried and true propane heaters for outdoor entertaining. Both models are made from high-quality materials, including an aluminized or stainless steel enclosure and an aluminum face grill. At either 25,000 or 34,000 BTUs, both can provide the radiant heat needed in outdoor entertaining spaces. They are available in three finishes: stainless steel, bronze, and black.
Much like the Bromic Tungsten Smart-Heat, the Bromic Platinum Smart-Heat is available in two models with either 3 or 5 burners. The Platinum model features highly effective heating capabilities. It also produces heat that is wind-resistant in up to 11 mph winds, so heating can be even more effective in windy outdoor environments. Either model can be easily mounted to a wall or ceiling. Both are available in a brushed stainless steel finish.

High End, Premium Wall and Ceiling Mounted Propane Patio Heaters
The Supreme Schwank is a premium propane patio heater. It is made with Marine-grade stainless steel and features low clearances, which helps it mount closer to a wall or ceiling and ultimately take up less space. This heater is available in single-stage and two-stage models. Both models are available in a black finish and can be ordered with multiple add-ons, such as a remote control and various mounting options.
This slim and narrow wall or ceiling-mounted propane patio heater from Calcana is a powerful and efficient heater, making it ideal for outdoor entertaining spaces. This heater is low maintenance and features an easy-light ignition system as well as a safely enclosed flame. At 5 feet in length, it is capable of producing anywhere from 20,000 to 40,000 BTUs of radiant heat, depending on what is needed. It is available in a stainless steel finish.
However, this Calcana Infrared propane patio heater is also available in a larger model, the PH75HO. This model has all of the same features and finish, but it is 10 feet long, which is double the length of the PH40HO. Also, check out the Calcana Infrared PH75HO.
The S34-TSH from SunPak is a high-quality two-stage heater that can easily improve outdoor entertaining spaces. It is capable of covering considerably larger areas. However, this means that it needs to be installed on higher ceilings. In a moderate climate, this heater is capable of raising temperatures by about 10 degrees. In its lower setting, it offers 25,000 BTUs of heat, and in its higher setting, it can achieve 34,000 BTUs. It is available in black or stainless steel.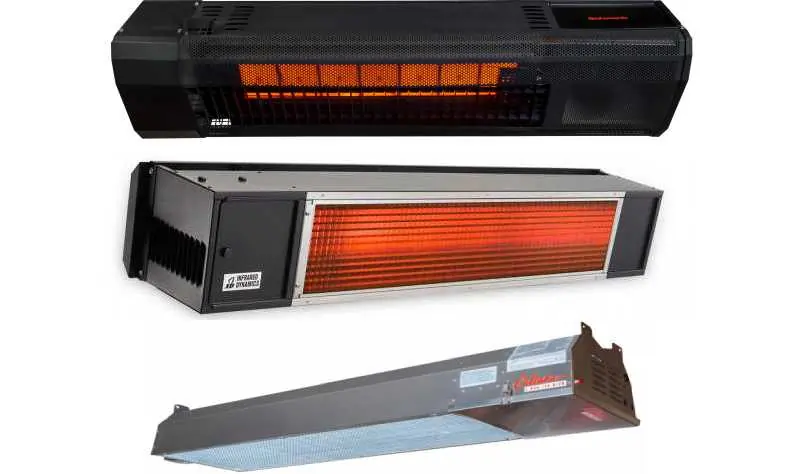 Stainless steel is a popular material for producing quality propane patio heaters for outdoor entertaining or any other purpose where you need to heat the patio for family, friends, guests, employees and more. The popularity of stainless steel is primarily because of the durability and resistance to rust and corrosion that it possesses. However, this Calcana Infrared propane heater is made from marine-grade stainless steel, meaning that it is incredibly durable and resistant to corrosion. However, durability is not all this heater has to offer. It is also highly efficient, sleek and stylish, and low maintenance. It is available in both a 5-foot long and 10-foot long model. The 5-foot model is capable of producing up to 40,000 BTUs of heat, while the 10-foot model can produce up to 75,000 BTUs.
Contact Us for Additional Information
At Gas Outdoor Patio Heaters, we provide outdoor entertainment spaces and venues in the United States with the propane patio heaters they need to keep their guests warm and comfortable. We have been helping residential homes and commercial businesses keep their outdoor spaces warm for years and know what it takes to help heat nearly any outdoor patio or event space. We have a variety of propane patio heaters that are available in different configurations and price points. Contact us today for more information or to get a quote!