The Outdoor Patio Heaters team was onsite for another big Calcana outdoor patio heater installation job out in San Diego, California.
On this install we are wall and ceiling mounting a custom configuration of outdoor restaurant patio heaters at two commercial sites in San Diego, Ca at Belmont Park in Mission Bay. We are outfitting two nice ocean front restaurants with permanent ceiling and wall mount gas patio heaters. Both of these restaurants have commercial outdoor patio seating for their clientele and we were able to work up a heating plan of action for both.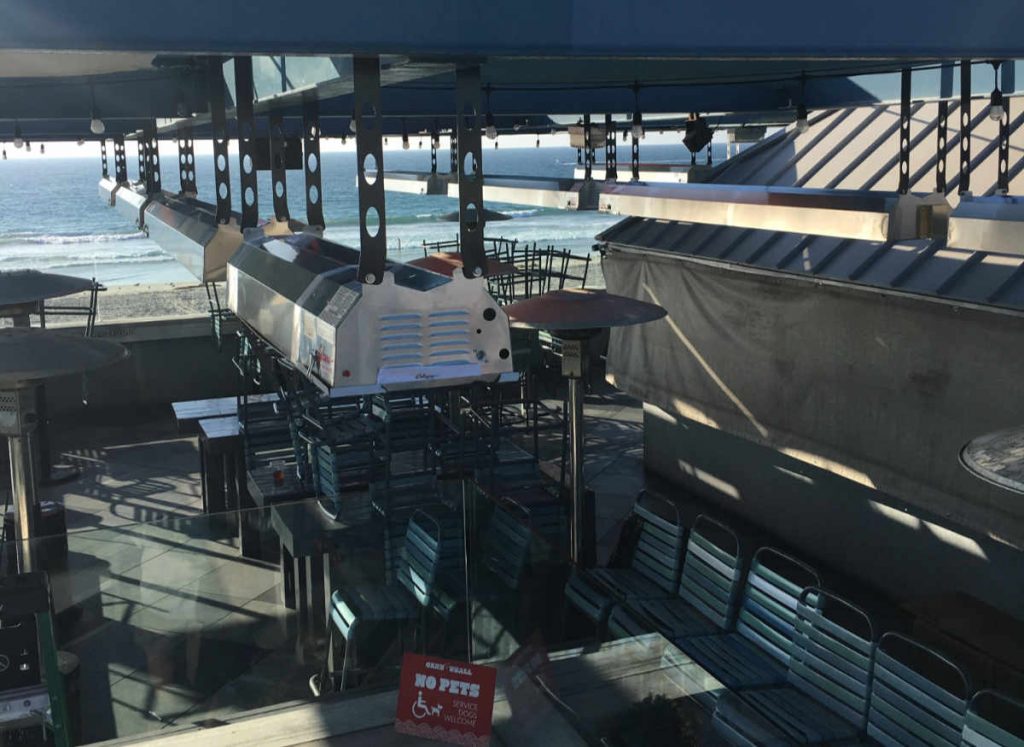 These restaurants have beautiful ocean views and expansive outdoor patios alike, Cannon Ball and the Draft Sports Bar and Grill. Each of these locations have been using the basic stand up tall propane heaters, which are not very efficient ways of heating. Not to mention these types of heaters are very expensive to operate. Additionally, they are an eyesore against the backdrop of the ocean. And even worse in many instances they were blocking the beautiful ocean views while clients were seated.
We here at OutdoorPatioHeaters (gasoutdoorpatioheaters.com) have the skill and knowledge needed to ensure a seamless outdoor patio wall and/or ceiling mount. For this configuration we knew we needed some custom designed and fabricated unreal H-Beam bracketry. Custom mounts were the only way to go specifically for these locations, in order for us to achieve the best positions and heat overlay for this group of commercial outdoor patio heaters. 
Our design and plan for this install was to effectively and aesthetically suspend these patio heaters. The area for placement was down a long corridor style dining area with views along the strand. This configuration was designed specifically for this layout, all to keep this area very comfortably heated for their dining patrons without blocking the views or the walkways.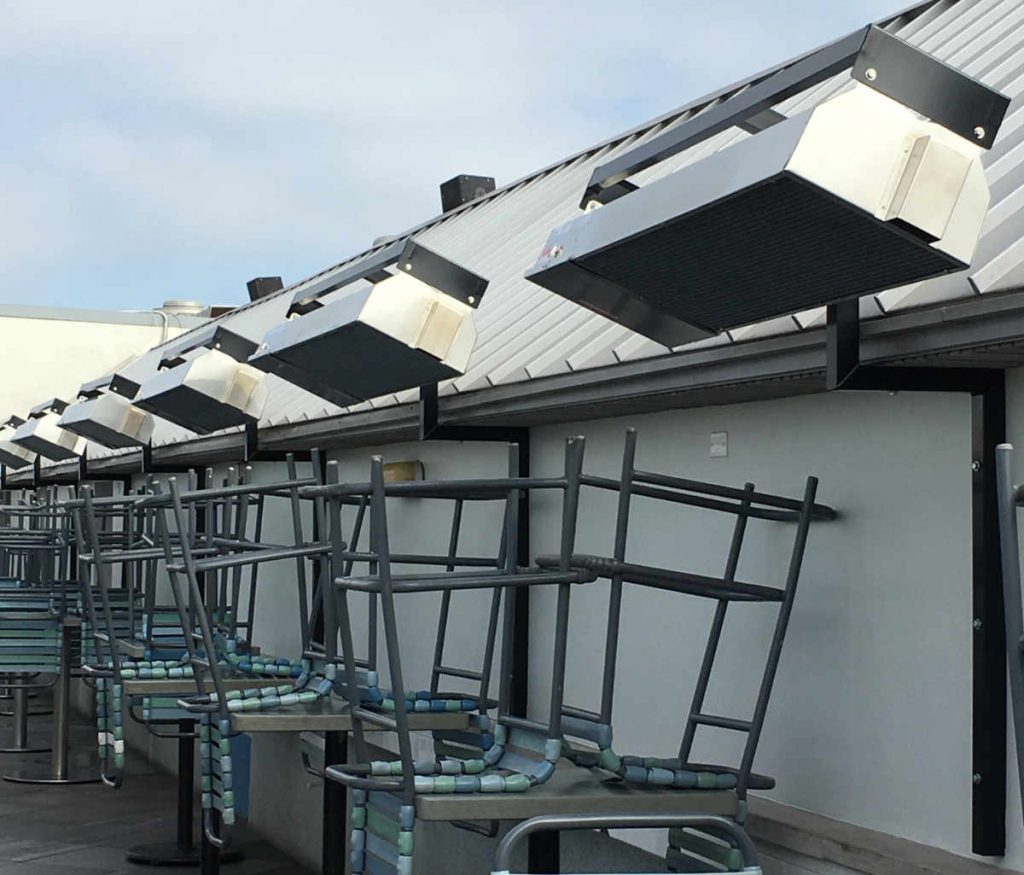 Installation specifications includes PH75HO ten foot Calcana as well as the 7 cantilevered wall mount brackets to hang the PH40HO five foot Calcana heaters. These units come with adjustable heat which makes these patio heaters ideal for precise heating of the area.
Mike Workman, our very own OutdoorPatioHeaters owner and founder had this to say about these installations for the two restaurants and their commercial patio heating needs. "This configuration and installation of outdoor patio heaters is another fine install by our team" Our patio heating expert Mike Workman goes on to say "In my many years in the business this is like nothing I have ever seen. We designed something truly unique and special – so much so that it truly can be called ART. Beyond the standing heaters there were some failing heaters from a competitor that were mounted that we had to remove. The new heating units are installed properly and with a more effective heat radius and a much more efficient unit. We replace them with the Calcana brand to do the job. This was a home run. I am very proud of OutdoorPatioHeaters team as usual but especially for this great patio heater install project."
At OutdoorPatioHeaters we specialize in selling and installing complex outdoor heaters and finding the right fit for your needs, is exactly what we do. Let us know how we can help you maximize heating your outdoor space and usage. We will help you designing the perfect heating plan for your space. Every configuration is designed with your patrons in mind – by providing cozy and comfortable temperatures with our outdoor patio heaters.
Our team will work with you so that we can understand your needs so that we can recommend the appropriate heaters and configuration for maximizing your money. Let's do it correctly from the start so heating your commercial space is as frustration free as possible.
We also provide consulting or troubleshooting for commercial spaces often solving issues the other guys created, fumbled, ignored or couldn't figure out. We've been in business over 20 years and we put our industry knowledge to good use and always stay up to date on the latest in outdoor patio heating. We look forward to working with you no matter how big or small your heating needs are!