Utilize your backyard patio space well into the cooler months with the cozy comfort of an outdoor patio heater. Warming your backyard patio allows you to comfortably enjoy your beautiful outdoor space much longer.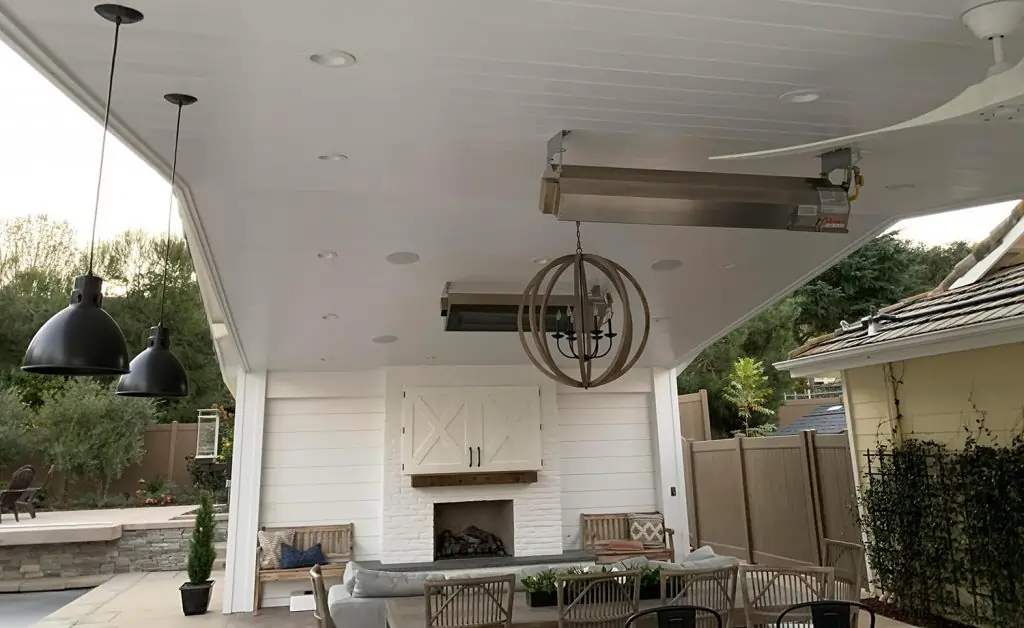 Maximize your outdoor space
Taking the time to custom design your outdoor patio space and having it set up exactly to your enjoyment is only complete if you plan how best to utilize the outdoor space during the cooler seasons. You no longer have to miss out on enjoying your patio and backyard for months on end. With a custom set up of outdoor patio heaters we can help you reclaim your space back from the cooler temperatures.

You spent time and money on making your outdoor space luxurious and with our selection of outdoor patio heaters we can help you custom design the perfect layout to blanket the area with warmth. Truly letting you control the temperatures and allowing you to enjoy your beautiful views and fresh air.

Luxury Outdoor Patio Heater Options
Outdoor patio heaters allow you to cozy up on your deck or outdoor patio with your loved ones, while you enjoy your beautiful backyard and amazing views. Regardless of the time of day, night or season; an electric patio heater or gas patio heater allows you to utilize and enjoy your outdoor space.

We bring climate control to your backyard with our inventory of patio heaters, allowing you to reclaim and enjoy your space year round. No matter how big or how small your back yard patio is we can help you get it heated effectively. We feature a variety of heaters for your outdoor patio from commercial grade, portable or to low profile wall or ceiling mounted patio heaters to keep your beautiful views unobstructed.

Outdoor Patio Heater Safety Features
Our patio heaters offer a variety of safety features to keep you, your children and your pets safe. A few examples:
Our ceiling or wall mounted options keep them out of reach of curious little ones and allows you to control the temperature remotely.
Our no-tip self stabilizing outdoor patio heater allows you to relocate the patio heater with care as needed but minimizes the risk of accidental tipping. And further features automatic shut off should it tip.
Our inventory features patio heaters that are both durable and long lasting so that you can enjoy many years of use.
Outdoor Patio Heater Experts
Not sure how best to set up your outdoor patio with outdoor heaters? Our team is fast, friendly and most importantly knowledgeable on how best to lay out your heating grid to make the best use of the heat they produce. Our resident expert Mike Workman can help you plan out a heating grid to blanket the area, or if you just need some portable heaters that allows you the flexibility to move them where the action is – we have you covered there too.

Give us a call at 760-919-4358. At GasOutdoorPatioHeaters we are leaders in outdoor patio heaters because we sell high quality products and know how best to maximize the heat that they produce so that our clients can best benefit from them. We are always happy to help you get back to the business of enjoying your outdoor space with comfortable year round warmth-even through the cooler seasons. Call us and get your patio heated up as soon as possible!
We look forward to working with you!