Calcana Garage Heater CAL Standard Output Model
Starts at: $1,615.00
Application(s):
Brand:
Heater Type:
SKU:

N/A
Category: Uncategorized
Please choose only one model, gas type and shipping
**FREE SHIPPING TO COMMECIAL ADDRESS
Residential freight delivery requires unloading capability/assistance
This heater is more for shops, garages and warehouses or enclosed patios and patios with plastic windows and wind shades. These are ventable for locations that have little to no ventalation so you can get the gases out and keep the heat in.
Please feel free to contact us, 760-779-1352 and ask for Mike as he will be happy to help with any heater and or design assistance.
Heater Features:
Inputs from 40,000 BTU/Hr to 75,000 BTU/Hr
Available in either natural gas or propane
Quite with draft free operation
Vents through the wall or through the roof
Low clearance to combustible, chart below
3 try direct spark igintion system. 100% safety shut off
Has an 8 sided aluminum reflector
Comes with a thermostat and hanging kit
Approved for indoor and outdoor use
Clearance to Combustibles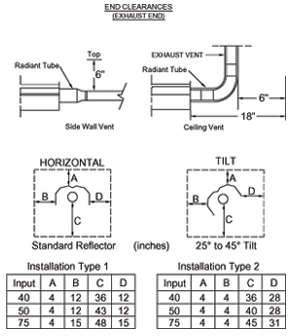 Rating Input Natural and LP Gas 0-4500ft elevation
Input (BTU/Hr)
Model Input Length
CAL-40A-10 40,000 BTU/Hr 10′
CAL-50A-15 50,000 BTU/Hr 15′
CAL-75A-20 75,000 BTU/Hr 20′
Gas Pressure at Manifold
Natural Gas 3.5″ W.C.
Liquid Propane 10.5″ W.C
Gas Connection Size 0.5″ N.P.T
Gas Inlet Pressure
Gas Minimum Maximum
Natural 4.5″ W.C 14.0″ W.C
Liquid Propane 11.5″ W.C. 14.0″ W.C
Electrical Rating
DSI Ignition 120V, 60Hz, 1 Amp 24 Volt low voltage thermostat or On/Off control
Outdoor Heater Mounting Options
Brackets work with all Calcana outdoor / indoor High output, Standard, Marine Grade natural gas or liquid propane Heaters.

Mounting options provide an overhead installation solution without compromising floor space.
Cantilever:
Cantilever wall mount brackets extend out 25 1/2″ at a 90° angle
25 Angle:
25° Angle Brackets are ceiling mounted allowing Calcana units to be mounted at a 25° pitch.
Can be used with a 4″ extension as shown in the above picture.
Horizontal:
Horizontal mounting allows the heaters to project straight downward. Can be used with a 4″ extension
as shown in the above picture.
25° Tilt:
Tilt brackets are 12″ long and put the heater at a 25° Tilt.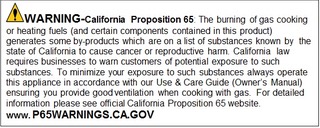 Additional information
| | |
| --- | --- |
| BTU | 40,000, 50,000, 75,000 |
| Fuel Type | Natural Gas, Propane |