Calcana Infrared Commercial Heater A Model
Starts at: $2,425.00
Application(s):
Brand:
Heater Type:
SKU:

N/A
Category: Uncategorized
Experience a Calcana Heatwave today!
The standard A Series heater from Calcana has adjustable heat ranges and is ventable. This heater model is more for shops, garages, warehouses or enclosed patios and patios with plastic windows and wind shades. Since this heater is ventable it is suitable for locations that have little to no ventalation, so you can get the gases out and keep the heat in.
If you need help on placement and/or design of any patio or commercial heater space please call Mike, 760-779-1352.
Free Shipping to Commercial Addresses
Home freight delivery require unloading capability/assistance so there is the residential delivery charge.
FEATURES OF THE CALCANA A MODEL COMMERCIAL HEATER INCLUDES:
Available in Natural Gas or Liquid Propane. Available in lengths; 11.5′, 16.5′ and 21.5′ , 40K to 75K BTU. Multiple units can be grouped together to achieve any length required.
SAFELY ENCLOSED FLAME:
The flame is protected from wind and is located inside the Low Intensity Infrared Emitter Tube. This tube captures heat energy contained in hot glue gases and turns the energy into comfortable HEAT waves.
LOW CLEARANCE TO COMBUSTABLES:
Can be safely installed in locations with awnings. Within 6″
SLIM, NARROW DIMENSIONS:
Easy to install in narrow, low overhead clearance locations; suitable for long, narrow street side patio locations or small werehouse spaces.
OVERHEAD DESIGN:
No floor space is lost as units hang from existing trellis or other overhead structures. Units can also mount to walls at an angle.
VARIABLE HEAT INPUT BURNER:
Patent pending, variable input design provides the right level of heat output for each location and is adjustable.
EXCLUSIVE PERIMETER POST & TRAC SYSTEM:
Provides an overhead installation solution without compromising floor space. Architectural and functional design allows for easy customization. Lighting, fans and flower baskets can be easily attached to the structure.
CERTIFIED FOR OUTDOOR & INDOOR APPLICATIONS:
Units are design certified to operate in outdoor environments, which include wind, rain, snow and temperatures as low as -40F. For indoor applications, the units can be safely vented through the wall or roof.
EASY-LIGHT IGNITION SYSTEM:
No pilot lights to ignite by hand, no valves to turn, no thermo-couples to replace. By using a reliable, 3-Try, direct electronic spark, 100% safety shut off ignition system, units safely and consistently operate in all types of weather with the flick of a switch.
24 VOLT CONTROLS:
Low voltage wall mount controlers included.
LOW MAINTENANCE:
No ceramic parts to break or replace. No thermo-couples to replace.Emitter tubes do not glow cherry red, therefore are not fatigued to the point of premature failure.
ECONOMICAL TO OPERATE:
Highly efficient reflectors capture the radiant energy and direct it to the area your intending to heat. Heats more area with less fuel than any other style of commercial heater.
HEAVY DUTY CONSTRUCTION:
High quality materials & workmanship eliminates metal fatigue and reflector warp or separation.
General Specifications
Rating (Input: Natural and L.P. Gas) 0-4500 ft elevation.
Gas Pressure at Manifold:
Natural Gas…………………….3.5″ W.C.
L.P. Gas…………………………10.5″ W.C.
Gas Connection Size………….0.5″ N.P.T.
Gas Inlet Pressure:
Gas Minimum Maximum
Natural 4.5″ W.C.14.0″ W.C.
L.P.11.5 W.C.14.0 W.C.
Electrical Rating:
DSI Ignition
120v, 60 Hz, 1 Amps
24 volt low voltage On/Off Hi/Lo control panel included.
Standard Equipment:
Variable input temperature control panel, modulating gas burner, low noise combustion air blower, visual burner inspection sight glass, air proving safety switch, 3-try spark ignition control, 100% safety shut off valves, 4″heat treated aluminized radiant emitter, aluminum reflector, heat economizer baffle, stainless steel hangers and burner-head, decorative grill, indicator light. Stainless steel construction on High Output Series.
Calcana Model PH50A (commercial gas outdoor heater) installed at Abernethy's (LA Music Center)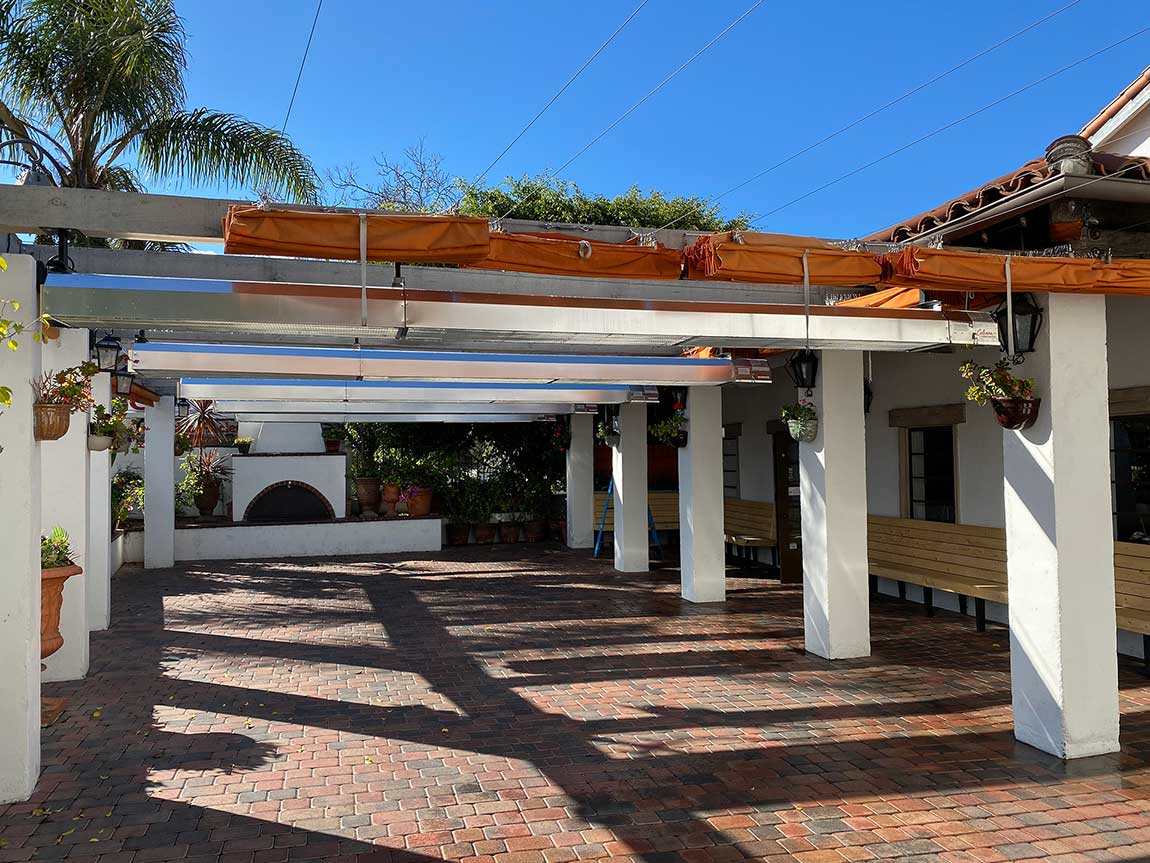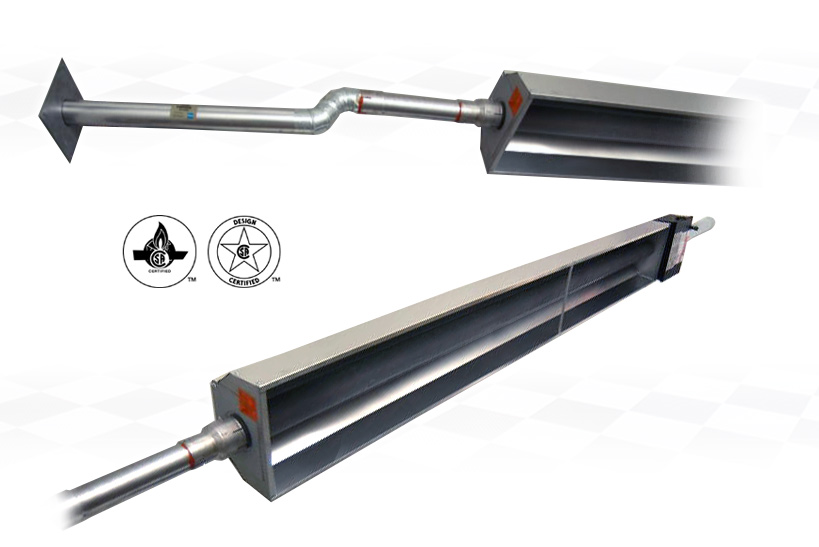 Optional Equipment:
Elbow kit / 180 degree U-Bend kit for PH-50 and PH-75
** Venting Kits are an optional item for enclosed areas. No venting Kit is required for well ventilated areas


Outdoor Heater Mounting Options
Brackets work with all Calcana outdoor / indoor High output, Standard, Marine Grade natural gas or liquid propane Heaters.

Mounting options provide an overhead installation solution without compromising floor space.
Cantilever:
Cantilever wall mount brackets extend out 25 1/2″ at a 90° angle
25 Angle:
25° Angle Brackets are ceiling mounted allowing Calcana units to be mounted at a 25° pitch.
Can be used with a 4″ extension as shown in the above picture.
Horizontal:
Horizontal mounting allows the heaters to project straight downward. Can be used with a 4″ extension
as shown in the above picture.
25° Tilt:
Tilt brackets are 12″ long and put the heater at a 25° Tilt.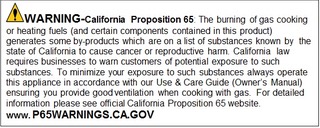 Additional information
| | |
| --- | --- |
| Fuel Type | Natural Gas, Propane |
| Choose Model | PH-40A 20,000 – 40,000 BTU 11.5', PH-50 25,000 – 55,000 BTU 16.5', PH-75 37,500 – 75,000 BTU 21.5' |