Infratech WD-Series Dual Element Heaters
Starts at: $699.00
Application(s):
Brand:
Heater Type:
SKU:

N/A
Category: Uncategorized
Outdoor Patio Heaters
Features:
Double the warmth with Infratech's WD-Series heaters. This high powered unit features dual element, to provide a more concentrated heat. This makes the WD-Series an ideal choice for recessed installation, premium outdoor heating applications, and spaces with 10′ to 14′ mounting heights and large-scale coverage areas. Infratech is 90% energy efficient, UL listed for outdoor and indoor use and are easy and inexpensive to operate. This heater is ideal for use in fine homes, restaurants, hotels and more. Infrared Heat Infrared heaters produce heat in a similar fashion to the sun. They warm surrounding objects and people, not the surrounding air. Infrared heat warms you directly by throwing out a steady stream of heat particles. By utilizing quartz elements our infrared heaters are able to emit a safe, clean wavelength of light that may only be absorbed by solid objects. This means the heat is transferred directly to you from your heater.
With these types of heaters your guests don't have to wait to warm up, like with ordinary heaters. With infrared heat they warm up rapidly, with fast acting heat rays that eliminate the cold.
Outdoor Electric Heaters
Traditional fireplaces are less than 50% efficient when producing heat. Conversely, Infratech radiant heaters convert over 90% of their input energy directly into radiant heat and do not require the ventilation fireplaces and traditional gas-fired heaters do.
This means your heater can be installed in a variety of locations including:
Patio
Terrace
Pergola
Poolside Deck
Balcony
Outdoor Kitchen
Outdoor Dining Space
Infrared heat does not blow away in breezy locations and the quartz elements are completely odorless.
Model features 3,000-6,000 Watt:
6″ Stainless Steel Mounting Kit Included
UL listed
Outdoor or Indoor use
Quartz Element
Approximate 5,000 hours of use on quartz element
10′ to 14′ Mounting height
0 to 60° Mounting Angle
Approximate 11′ x 11′ Heat Coverage
Minimal Maintenance Costs
Custom Powder Coating available in White, Almond, Beige, Bronze, Gray, Copper, and Black
3 Year Warranty
Made in the USA
Switches/Remotes are Not Included
| | | | | | |
| --- | --- | --- | --- | --- | --- |
| Model | Length | WATTS | Volts | Amps | Shipping Weight |
| WD-3024 SS | 33″ | 3,000 | 240 | 12.5 | 13lbs |
| WD-4024 SS | 39″ | 4,000 | 240 | 16.7 | 14lbs |
| WD-5024 SS | 39″ | 5,000 | 240 | 20.8 | 14lbs |
| WD-6024 SS | 61 1/4″ | 6,000 | 240 | 25.0 | 21lbs |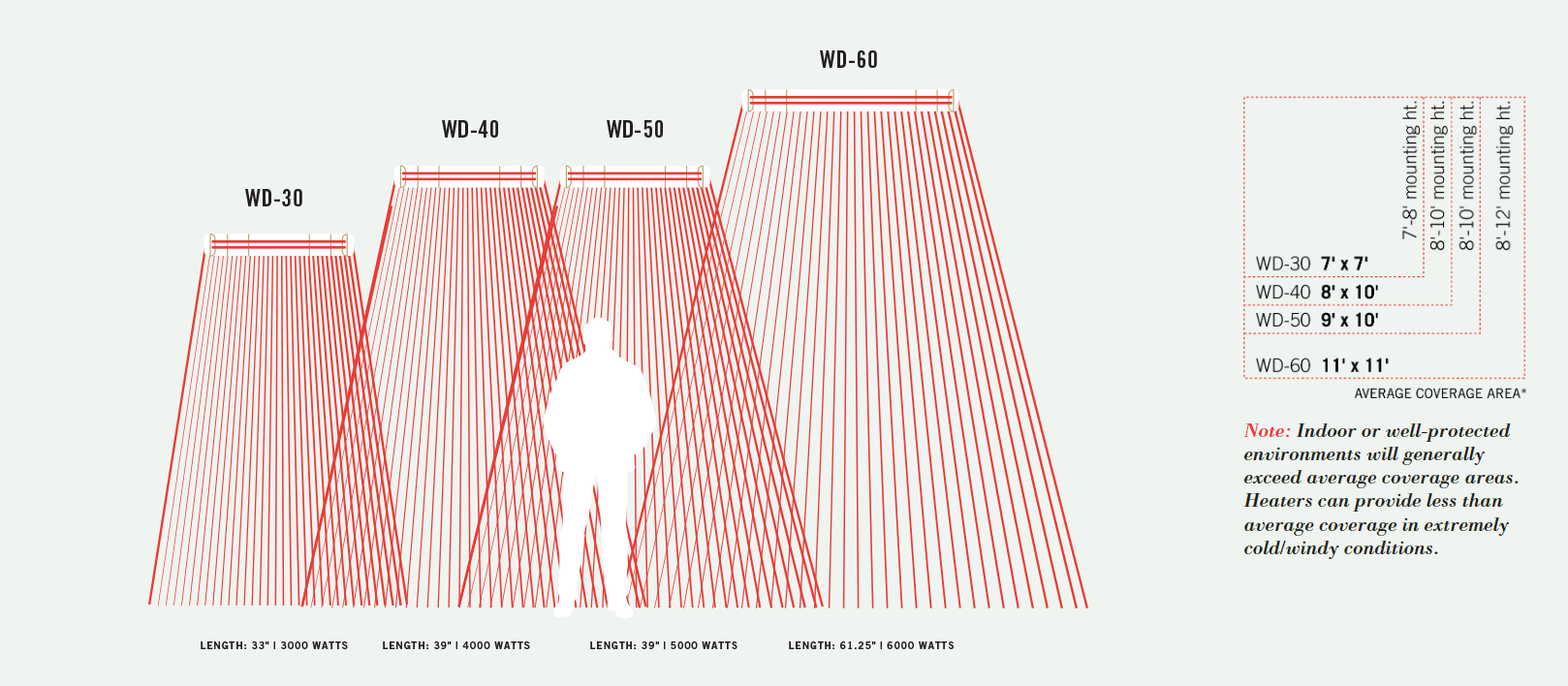 No Eye Sores
These heaters have been uniquely designed in order to warm your outdoor spaces with minimal visual impact. There are a variety of installation options available as well.
You may choose from a flush mount, ceiling mount, pole mount or wall mount for your installation.

Infratech Dual element heaters produce more concentrated heat and can be mounted up to 14 feet high. Available in 3,000, 4,000, 5,000, and 6,000 watts.
Available in Stainless steel or custom powder coated color options: Almond, Beige, Biscuit, Black, Bronze, Copper, Grey or White.
Call and Talk to Mike to see if the Infratech is the right fit for your outdoor area.
MADE IN THE USA


Additional information
| | |
| --- | --- |
| BTU | 10,200, 13,600, 17,000, 20,000 |
| Wattage | 3000 Watts, 4000 Watts, 5000 Watts, 6000 Watts |
| Amps | 12.5 Amps, 16.7 Amps, 20.8 Amps, 25 Amps |
| Choose Model | WD3024SS 33" 3000 Watt, WD4024SS 39" 4000 Watt, WD5024SS 39" 5000 Watt, WD6024SS 61 ¼" 6000 Watt |
| Voltage | 208V, 240V, 277V, 480V |